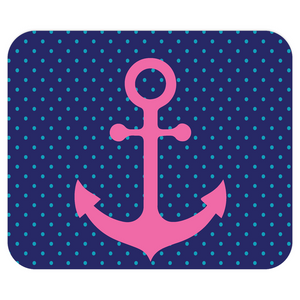 Preppy Pink Anchor On Blue Polka Dots Computer Mousepad
Brighten up the look of your office and add personality to your desk with this wonderful nautical themed design. This fun preppy design, featuring a hot pink anchor against a navy background with small light blue polka dots, is a hit with boaters, sailors and coastal dwellers.
When you spend a great deal of time in front of a computer every day, it's important to give your workstation a touch of comfort. Made of high density neoprene with a smooth fabric layer, this mousepad is stain-resistant and easy to clean. The anti-slip rubber material and smooth cloth surface allows for precise mouse control and great glide.
7.79 x 9.25 inches. 1/4 inch thick.
Stain resistant and easy to clean.
Material: Soft polyester with thick rubber and no slip neoprene backing.
Allow 4 days for production time.