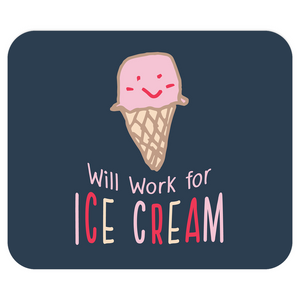 Will Work for Ice Cream Computer Mousepad
TRUTH: Ice cream consumption increases work productivity! Celebrate a love of ice cream and frozen treats and bring a little bit of personality to your workspace with this fun mousepad design.
When you spend a great deal of time in front of a computer every day, it's important to give your workstation a touch of color, comfort and fun. Made of high density neoprene with a smooth fabric layer, this mousepad is stain-resistant and easy to clean.
**Due to COVID Production Delays, Please Allow 5-7 Business Days for Order Processing
7.79 x 9.25 inches. 1/4 inch thick.
Stain resistant and easy to clean.
Material: Soft polyester with thick rubber and no slip neoprene backing.
Allow 4 days for production time.